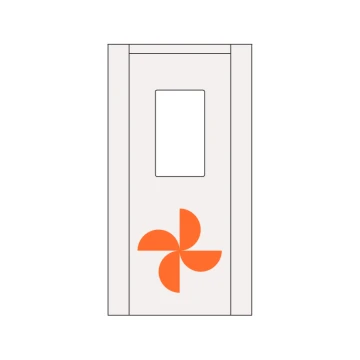 Pellet stove without chimney
Pellet stove without a chimney has become an increasingly attractive alternative in the choice of stove. Ulma now offers an accessory that replaces the traditional chimney. This means that the chimney is no longer necessary for heating in the stove. All that is required is a small hole in the wall.
Heating your home with a pellet stove has many benefits. To begin with, pellets are both an environmentally friendly and inexpensive fuel that is just right for the times. At the same time, the pellet stove, together with our supplement for heating without a chimney, is incredibly easy to maintain. In fact, it is largely managed completely automatically. This is because it has a thermostat that controls the stove so that exactly the right amount of pellets is fed in. Therefore, a pellet stove without a chimney is also a very advantageous alternative for heating.
Do you want to buy a new pellet stove without having to install a chimney in your home. See Ulma's new accessories for a chimney-free stove. Also check out our pellet burner and pellet boiler for additional ways to heat your home or premises with pellets as fuel.


How does a pellet stove without a chimney work?
A pellet stove connected to the chimney leads smoke out through the house's existing chimney, alternatively, through a chimney built to fit the specific stove. In most cases, this option works great. Especially when your house already has a working chimney. In other cases, an alternative without a chimney is preferable.
When installing a pellet stove without a chimney from Ulma, a so-called horizontal flue is used. With this very smart solution, the pellet stove is easily installed against an outer wall, through a hole in the wall. The combustion air is extracted from outside in the same flue as the flue gases exit. This means that the flue gases are cooled down at the same time as the air from the combustion is preheated. This increases the efficiency of your stove. The extension is in itself completely passive, which means that the stove's fan for flue gas leads the gases out.


What are the benefits of a chimney-free pellet stove?
Since chimney-free pellet stoves were launched, interest in the heat source has increased markedly. This is due to the many benefits. 
These are the main advantages of a pellet stove without a chimney:
The flue that replaces the chimney is very easy to install. The installation is faster than for a regular chimney.
The extension is cheap to install. This means that a stove without a chimney that is fired with cheap pellets is a very cost-effective alternative for heating your house.
Since it is only required that the stove is installed at an external wall, a pellet stove without a chimney can be installed in both a larger villa and a smaller summer house.
The temperature of the flue gases is lowered to a completely harmless level. This is because the flue gases are cooled down by the outdoor air before it is led out.
The flue is very easy to maintain as you can easily access it by lifting the protective cover from the outside.
It has never been easier to add an environmentally friendly and pleasant method of heating to your home.


For which of Ulma's stoves does the supplement work?
Our supplement for a chimney-free pellet stove can be easily used for the majority of our stoves. All that is required is that it has a smoke outlet at the back.
At Ulma, you will find several stylish pellet stoves that all help to increase the comfort of your home. Partly through a very cozy glow, but of course also with its attractive design. We can promise that you will find the perfect stove for your home. So that you too can install a stove without a chimney with pellets as fuel.
If you have further questions and concerns regarding our products, you are warmly welcome to contact us. See also our page frequently asked questions and answers.