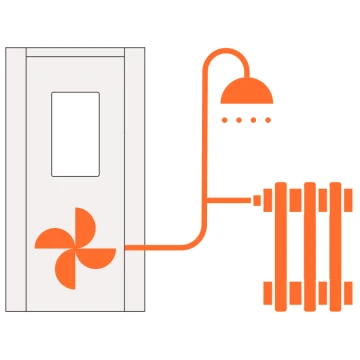 Thermo pellet stoves
A thermo pellet stove is an optimal solution for water-based heating systems, which quickly heat the water in radiators while heating the air in the room. They are practical and affordable and combined functions with attractive aesthetics. Some models are available in a H2O version, which means that they come with a special kit that makes it possible to heat the domestic water supply as well.
The Fenice pellet stove is a popular new product for 2022, with a delicious design and many functions.

Duct-connected pellet stove

The stove has the ability to transmit hot air to nearby rooms using air ducts.

Flexible installation

FLEXIT guarantees excellent flexibility when it comes to installation. Can be connected to the smoke connection from behind and from above, with or without concentric flue.

Closed combustion chamber

The stove has a completely closed combustion: the stove does not get its oxygen from the room itself, but from outside. This way, the oxygen in your living room remains comfortable and healthy, and you do not risk getting a negative pressure in the house. Ideal for low-energy houses and passive houses.

Built-in Wi-Fi

The control of the stove can be easily done via an app on your mobile phone or tablet in or away from home, which makes it easy to use and install.

Pellet stove without chimney

The stove can be installed with a so-called horizontal flue instead of a traditional chimney. With our popular chimney solution, the stove is easily installed against an external wall through a hole in the wall.

With this ingenious solution, the combustion air is extracted from outside in the same flue as the flue gases exit. This cools the flue gases, while preheating the combustion air and increasing the efficiency of your stove.

The chimney is completely passive, which means that the stove's flue gas fan ensures that the flue gases come out. And you can easily access the flue pipe by lifting the protective cover from the outside, which makes it very easy to maintain.