 
Pellet Stove HYDRO PRINCE³ 12kW
Cadel Hydro Prince³ 12kW is the pellet stove with a simple and refined design, characterized by a water jacket that takes full advantage of the heat generated by distributing it in all the spaces of your house.
Hydro pellet stove
With a water-jacketed stove, you can use the heat in your stove in a smarter way by transporting the heat out into the rest of the house via radiators or underfloor heating, while also being pleasant to look at. As soon as the stove's water reaches a certain temperature, the circulation pump starts automatically and sends out hot water in the circuit. 10 kW power heats the water, while 2 kW power heats the room where the stove is located.
Easy to install
The stove is delivered complete with built-in circulation pump, 7 liter expansion tank and a 3 bar safety valve. 
Interconnection with other heating systems
With a so-called Snubber (purchased separately), the stove can communicate with several heating systems, for example a heat pump. If the stove is switched off or receives an alarm, a relay (max 10A, 230VAC) opens to energize the second heat source
Sealed combustion chamber
The stove has a completely sealed combustion: the stove does not get its oxygen from the room itself, but from outside. In this way, the oxygen in your living room remains comfortable and healthy, and you don't run the risk of negative pressure in the house. Ideal for low-energy houses and passive houses.
Built-in Wi-Fi
The control of the stove can be easily done via an app on your mobile phone or tablet in or out of the home, making it easy to use and install.
Pellet stove without chimney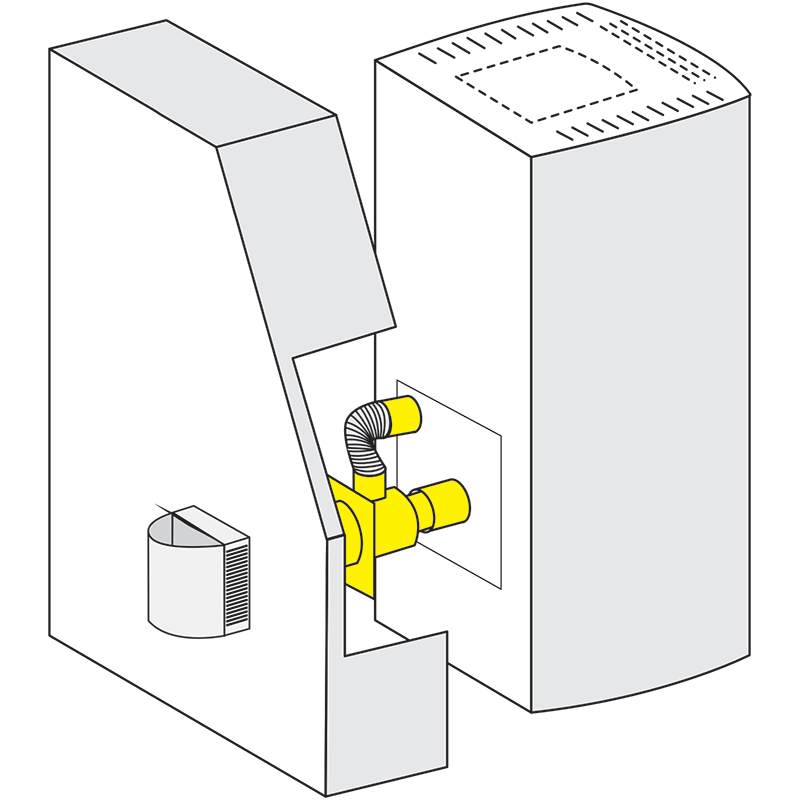 The stove can be installed with a so-called horizontal flue instead of a traditional chimney. With our popular chimney solution, the stove is easily installed against an external wall through a hole in the wall.
With this ingenious solution, the combustion air is extracted from outside in the same flue as the flue gases exit. This cools the flue gases, while preheating the combustion air and increasing the efficiency of your stove.
The chimney is completely passive, which means that the stove's flue gas fan ensures that the flue gases come out. And you can easily access the flue pipe by lifting the protective cover from the outside, which makes it very easy to maintain.



Sealed chamber
Cast iron burning pot

Integrated Wi-Fi
Connection to external thermostat
Daily and weekly programming
Smoke connection on the back
Air temperature sensor
Water temperature sensor
Hydraulic kit included
Connection to the heating system