 
Pellet Stove SWEET³ 7 kW
The SWEET³ pellet stove lives up to its name. Its simple and discreet design evokes a certain sweetness. It also knows how to be discreet, and integrates easily as an interior detail. Add to that a very good performance, ease of use, and an incredibly low price, and you have the recipe for a very popular pellet stove.
In addition to this, it impresses above all with its innovative technology. With an output of 7 kW, this unit achieves a high efficiency of 91%. The stove works with wood pellets and the combustion is electronically controlled, which means that the combustion takes place completely automatically, unlike traditional stoves - it is switched on and off by itself with the help of the built-in temperature sensor. The pellet tank with a capacity of 15 kg is located on the back of the stove, loading takes place from above. With the integrated room thermostat, the stove ensures a constant even room temperature.
On the top there is a simple control panel that is very intuitive and allows you to manage all important heating settings. You can also control your stove very easily with your smartphone and thus keep an eye on the pellet stove's important functions at any time via the mobile application.
Pellet stove without chimney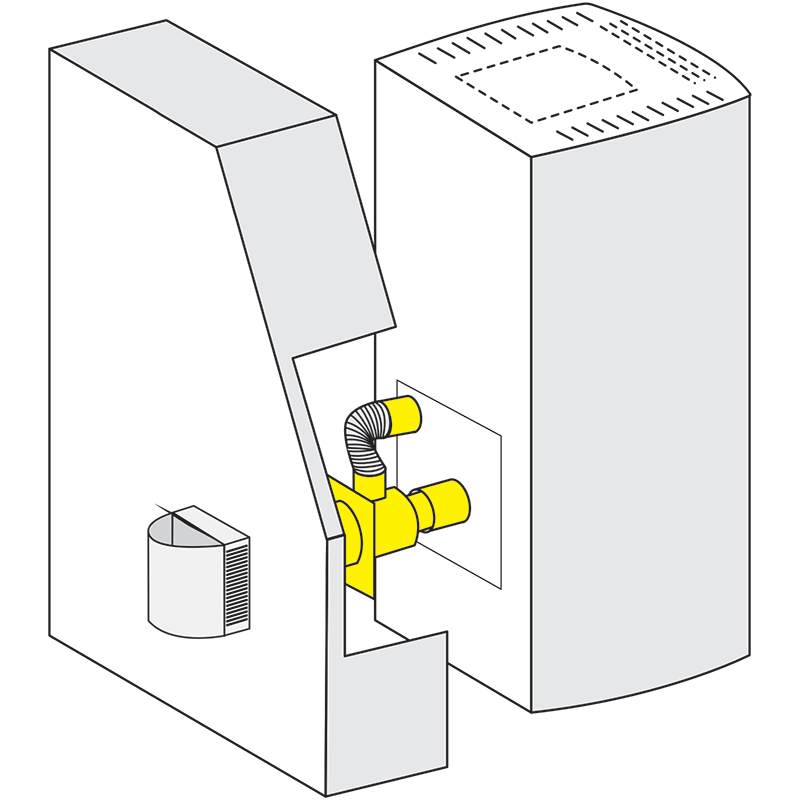 The stove can be installed with a so-called horizontal flue instead of a traditional chimney. With our popular chimney solution, the stove is easily installed against an external wall through a hole in the wall.
With this ingenious solution, the combustion air is extracted from outside in the same flue as the flue gases exit. This cools the flue gases, while preheating the combustion air and increasing the efficiency of your stove.
The chimney is completely passive, which means that the stove's flue gas fan ensures that the flue gases come out. And you can easily access the flue pipe by lifting the protective cover from the outside, which makes it very easy to maintain.



Sealed chamber
Shield
Cast iron burning pot
Comfort mode

Integrated Wi-Fi
Remote control (optional)
Connection to external thermostat
Daily and weekly programming
Smoke connection on the back