 
Pellet stove SHELL³ PS 9kW
The SHELL³ PS 9kW pellet stove from the manufacturer Cadel is a pellet stove with a lot to say. With its special rounded shape, this stove is much appreciated. The control panel is easy to use and can be controlled remotely by the already integrated Wi-Fi system via your mobile phone.
SHELL³ is completely covered with natural acrylic stone, a material that is resistant to heat and moisture, and which is also very elegant and easy to clean. In addition, there is a touch of magic with its "magic glass" - the large front glass that allows you to enjoy the fire while the stove is running, but which darkens when the stove is turned off. An economical and very efficient stove that has a heating capacity of up to 218 m³ and an operating time of up to 32 hours.
Corner assembly
The SHELL³ PS stove has the flue gas outlet angled at 45 degrees, which makes it perfectly suited for corner installations.
Comfort mode
If you are looking for a quiet pellet stove, this is perfect for you. Cadel's stoves have a so-called Comfort Mode, where the fans are automatically switched off at the lowest power. 
Sealed combustion chamber
Our pellet stoves have a completely sealed combustion: the stove does not get its oxygen from the room itself, but from outside. This way, the oxygen in your living room remains comfortable and healthy, and you do not risk getting a negative pressure in the house. Ideal for low-energy houses and passive houses. 
Programmable weekly schedule 
All CADEL pellet stoves have a built-in room thermostat with weekly programming. This way, you can program each day of the week separately, completely according to your wishes!
Beautifully rounded glass door that darkens when it cools
Compact and flexible size
Available in several different color combinations
Comfort mode for whispering quiet operation
Pellet stove without chimney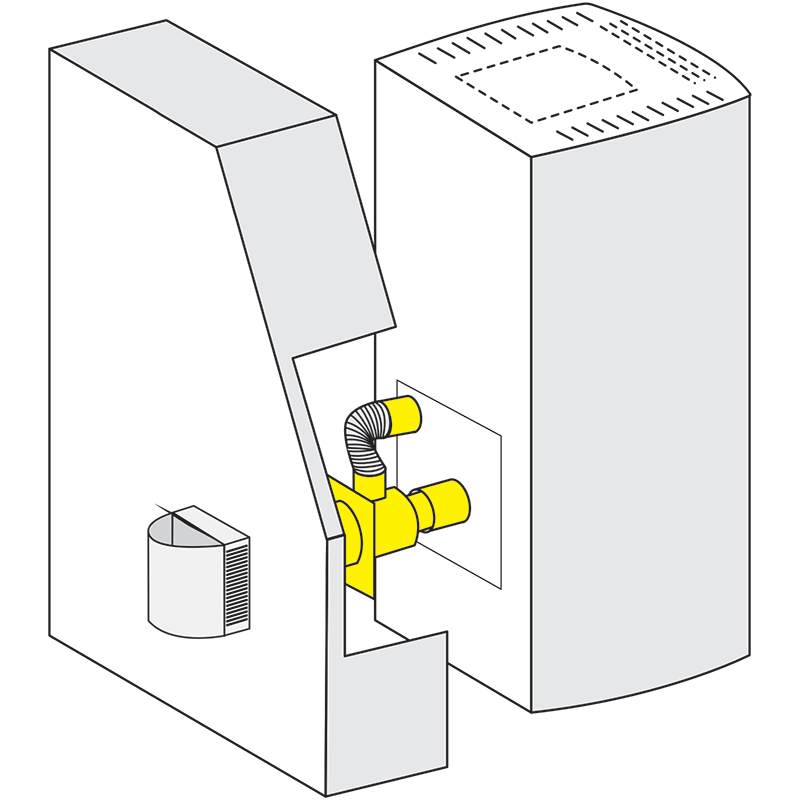 The stove can be installed with a so-called horizontal flue instead of a traditional chimney. With our popular chimney solution, the stove is easily installed against an external wall through a hole in the wall.
With this ingenious solution, the combustion air is extracted from outside in the same flue as the flue gases exit. This cools the flue gases, while preheating the combustion air and increasing the efficiency of your stove.
The chimney is completely passive, which means that the stove's flue gas fan ensures that the flue gases come out. And you can easily access the flue pipe by lifting the protective cover from the outside, which makes it very easy to maintain.



Sealed chamber
Cast iron burning pot
Comfort mode

Integrated Wi-Fi
Remote control (optional)
Connection to external thermostat
Daily and weekly programming
Smoke connection on the back
Magic glass