 
Pellet Stove PRINCE³ PLUS 11 kW
When you enter a room, you know that it is heated by a Prince³ stove from the pleasant warmth of the skin and nothing else, because its main function is its silence. With a maximum power of 11 kW, it continues to heat the rooms when it reaches the desired temperature, but without giving annoying background noise. Now in a new version for 2022.
The stove has a completely closed combustion as it does not get its oxygen from the room itself, but from the outside. This way, the oxygen in your living room remains comfortable and healthy, and you do not risk getting a negative pressure in the house. The preheated combustion air also prevents the smoke from producing deposits on the glass and soiling it.
The Prince³ pellet stove is one of the most popular models because it offers high power, large storage capacity and low fuel consumption. With Wi-Fi and Bluetooth as standard, comfort and flexibility increase in use.
Very quiet sound level
Classic design in several different colors
High power at a good price
Duct-connected pellet stove
The stove has the ability to transmit hot air to nearby rooms using air ducts.
Pellet stove without chimney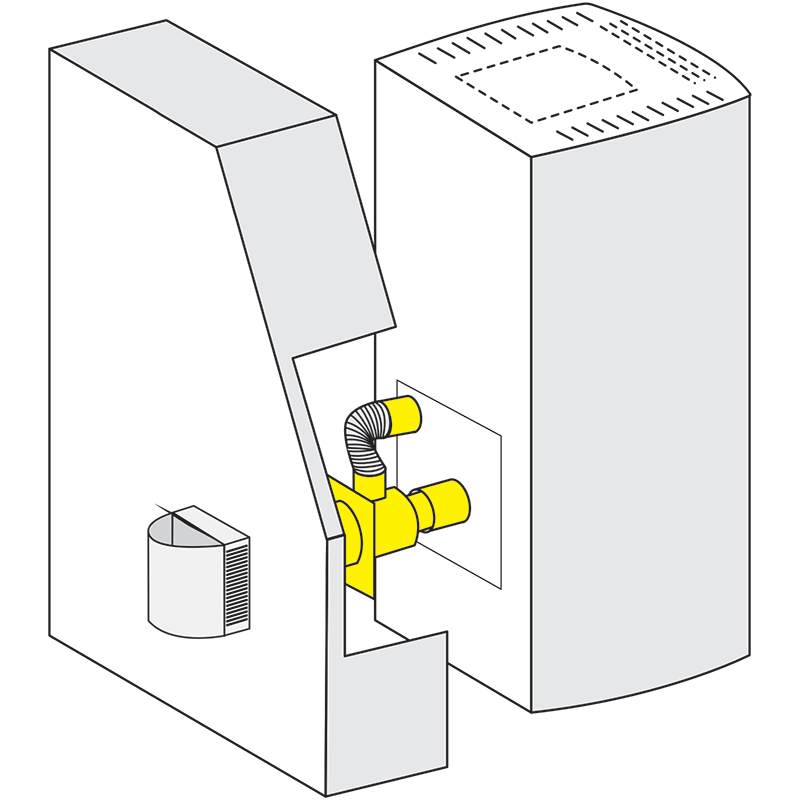 The stove can be installed with a so-called horizontal flue instead of a traditional chimney. With our popular chimney solution, the stove is easily installed against an external wall through a hole in the wall.
With this ingenious solution, the combustion air is extracted from outside in the same flue as the flue gases exit. This cools the flue gases, while preheating the combustion air and increasing the efficiency of your stove.
The chimney is completely passive, which means that the stove's flue gas fan ensures that the flue gases come out. And you can easily access the flue pipe by lifting the protective cover from the outside, which makes it very easy to maintain.