 
Pellet Stove KOBE³ PLUS 11 kW
Stylish, modern and highly efficient - this is the airtight pellet stove KOBE from Cadel. With an output of 11 kW and an efficiency of 90%, it ensures the comfort of your home. KOBE can heat up to 294 m³ and thus protects not only the environment, but also your wallet.
The pellet tank, with a capacity of approximately 25 kg, guarantees even and long-lasting heat without constant filling of wood pellets. These are transported completely automatically via a screw into the combustion chamber and ignite there.
Duct-connected pellet stove
The stove has the ability to transmit hot air to nearby rooms using air ducts.
The benefits of a cast iron pot
In addition to being very resistant, a cast iron burner (ashtray) gives the stove an increased service life, but also the comfort of a quieter stove because cast iron dampens the sound from falls of pellets.
Wifi-connected pellet stove
In fact, Wifi provides real comfort by allowing you to remotely control your stove via a computer or a mobile phone!
✓ Switch the stove on / off remotely
✓ Increase / decrease the power with your phone
✓ Raise / lower the temperature with your phone
The stove is controlled via an Apple or Android application, wherever you are, whenever you want. This app is 100% free and can be installed on multiple phones.
Pellet stove without chimney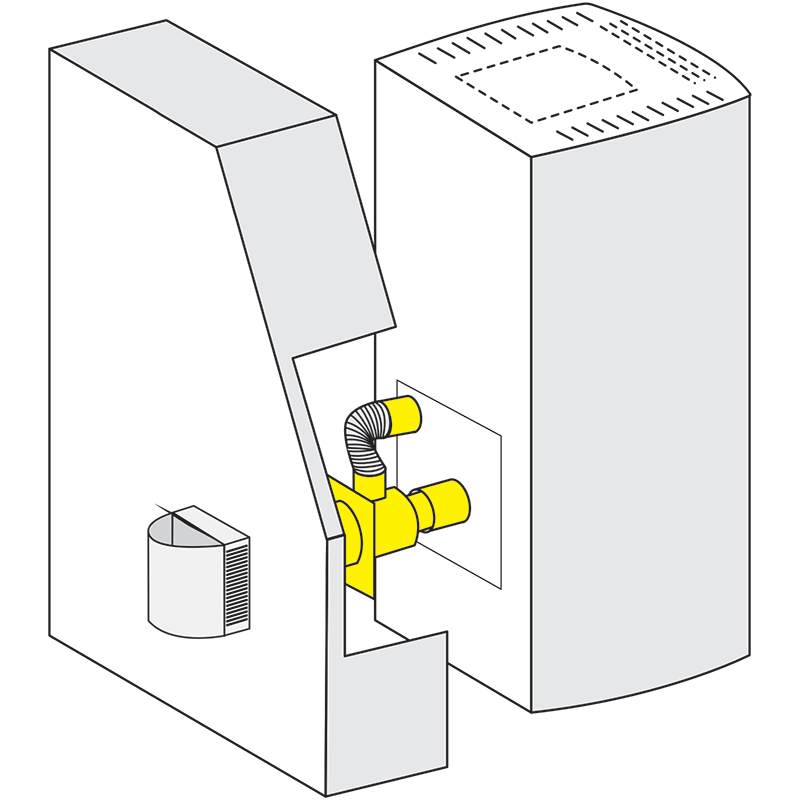 The stove can be installed with a so-called horizontal flue instead of a traditional chimney. With our popular chimney solution, the stove is easily installed against an external wall through a hole in the wall.
With this ingenious solution, the combustion air is extracted from outside in the same flue as the flue gases exit. This cools the flue gases, while preheating the combustion air and increasing the efficiency of your stove.
The chimney is completely passive, which means that the stove's flue gas fan ensures that the flue gases come out. And you can easily access the flue pipe by lifting the protective cover from the outside, which makes it very easy to maintain.